The same lobbyist that sold Washington on Enron is now touting Ben Bernanke. According to Politico, former Enron lobbyist Linda Robertson has been managing Bernanke's confirmation effort on behalf of the Federal Reserve — coaching him through the process in much the same way she coached Ken Lay and Jeff Skilling through the Washington influence game.
Robertson played a key role in some of Enron's most scandalous moments in the year prior to its collapse. For starters, she was at the center of negotiations involving the highly secretive energy task force headed by Vice President Dick Cheney.  A review of Enron email shows that Robertson guided Lay through pivotal meetings with Cheney and other officials, and actually authored the Enron memo and talking points that were later integrated into Cheney's controversial energy plan.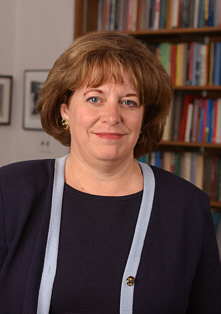 Cheney's task force was criticized for its heavy industry bias — it worked in close cooperation with companies like Enron while largely ignoring the concerns of environmental and consumer groups. The Bush administration refused to make many details of its functions public.
Enron was one of the companies that got special attention from Cheney, and Robertson authored the plan that Enron sent to Cheney. She first sent the energy plan talking points to Lay chief of staff Steven Kean and chief lobbyist Richard Shapiro on April 5, 2001 (unfortunately, I can't find a link — it's pulled from the database available here):
The attached Talking Points are for Ken's use in his conversations and/or meetings with Bush Administration officials on their National Energy Plan.  We are awaiting word on a possible meeting today with Josh Bolton at 4:30.  We have confirmed a meeting Friday at 3:45 with Larry Lindsey.  Thanks
The next day, Robertson and Lay met with a number of Bush administration officials, according to a report by the House Oversight committee.  A week later, on April 13, Robertson emailed Shapiro and Kean to let them know that she was faxing the talking points to Cheney's office in preparation for an April 17 meeting between Lay, Robertson, and Cheney:
Cheney's office asked us to fax them prior to the meeting a document on what
we intend to talk about.  Rick and I agreed to send the document we gave to
Karl Rove a couple of weeks ago.  We sent this to Rosie so that she could fax
it to Cheney.  She showed it to Ken first.  He had edits to the document.
They are below.
FYI.  The document, as revised, is being faxed to Cheney now.
A House Oversight investigation later obtained these documents and found that the Bush White House plan had adopted "all or significant portions of Enron's recommendations" in seven of the eight areas outlined in Robertson's document. Most of the recommendations involved federal intervention that deregulated the country's power markets.
Robertson and Lay's meeting with Cheney came at the height of the California electricity crisis, which was saddling the state with rolling blackouts, and due at least in part to Enron's manipulation of energy prices.  Enron was profiting from the crisis and lobbying hard against price caps.  Robertson played a key role in this effort; the memo she submitted to Cheney recommended that "The administration should reject any attempt to re-regulate wholesale power markets by adopting price caps."
The following day, according to the Nation's John Nichols, Cheney gave an unusual interview to the Los Angeles Times, in which he repeatedly came out against price caps (FERC instituted price caps a few days later, apparently against Cheney's wishes).
California had been plunged into catastrophic debt and darkness by deregulatory policies, but Robertson worked all the levers of the Washington influence game to push things even further.  The parallels to the Bernanke confirmation fight are obvious.
Robertson came out of the Clinton Treasury and would seem to be an unlikely author for a Bush administration plan — especially one that Congressional Democrats railed against as a product of corporate influence.  But throughout her career, Robertson has demonstrated that her allegiances to corporate America trump partisan politics. She just may be the perfect pick for the Bernanke fight:  for the confirmation to go through, she'll need to rally an anti-populist, bi-partisan coalition of corporate Senators.
We'll have more on Robertson tomorrow.